Symptoms:
Users are getting charged a color printing rate, when printing to a black and white printer.

Reports are showing color jobs or pages on a black and white device.
Applies To:
This Article applies to Print Manager Plus 2010. Current version build at time of last article update: 8.0.137.209
Causes & Solutions:
Solution 1: A Color Driver is being Used:
The most common reason for this is the driver being used is a color driver, or a universal driver that is sending full color to the device, even though the device can't print it. The best way to determine if this is the case is to view the Properties of the printer queue on the print server, and see if it is a color driver.
a. Locate the printer on your Print Server, and right click and choose Properties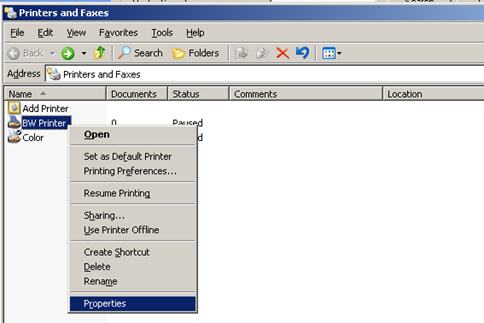 b. Within properties, locate the Color feature. It will say Yes if a color driver is being used.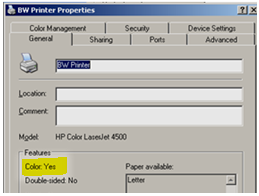 c. To Resolve the issue, upgrade to the proper driver for that black and white device, or contact your printer manufacturer for further support.
Solution 2: Override The Driver's Color Reporting:
Starting in Print Manager Plus 8.0.137.183 there is a Color Override feature that can be used to report all jobs as Black and White, or all jobs as Color per each print queue. The follow steps cover enabling this.
a. Open the Print Manager Plus Administrator, and go to the Printers Tab.
b. Open the properties of the print queue you are having this issue on and open the [Advanced Settings] tab.
c. Within Advanced Settings, select [Track all Jobs as Black and White].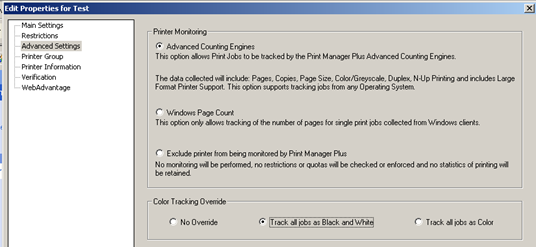 No Black and White Driver is Available - (Unsupported):
In the rare event that the Printer Manufacturer does not supply a properly created black and white driver for your device, you can manually override this within Windows using the registry.
1. Make a full backup of your registry.
2. Browse to the following registry key:
HKEY_LOCAL_MACHINESYSTEMCurrentControlSetControlPrintPrinters
3. Within that registry key locate the subkey for your Black and White Printer.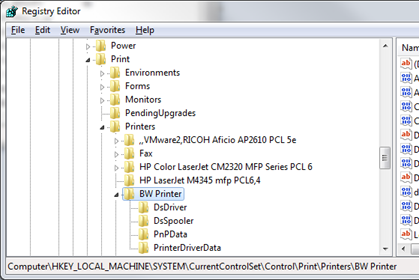 4. Within the Printer's registry key, will be a subkey named DsDriver. This is where the driver tells windows whether it is a color or black and white printer. The printColor value will be set to 00 to mean it is a black and white device.