Updating Print Manager Plus using eUpdate
Print Manager Plus can be easily updated using the online Electronic Update system. This can be accessed within the [File] menu by choosing[eUpdate]. Each update consists of two parts, the Administrator portion of the software, and the service portion of the software. It does not matter which portion of the software is updated first, though both parts should be updated back to back of each other. For further information on the Administrator and Service portion of the software, see Introduction to Using Print Manager Plus
Updating Print Manager Plus
The following Steps walk through updating Print Manager Plus Administrator and Service.
1. Open the Print Manager Plus Administrator, and choose [eUpdate] from the [File] menu.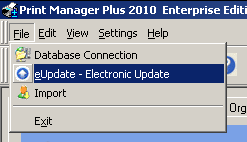 2. A new dialog box will appear, it will query the Print Servers and Administrator for their current version. It will also ensure the maintenance contract is current for this license.
Note: If maintenance is not current for updating Print Manager Plus, please contact maintenance@printmanager.com for a current quote on updating to the newest version.
3. Once the software version has been queried, it will display whether or not an update is available. This example shows that the Admin Console is on version (8.0.137.189) and that version (8.0.137.191) is available. It also shows an update is available for the Print Manager Plus Server too (8.0.137.191).
4. Next in our example, we will update the Administrator Console. This can be done by clicking the [Update Administrator] button. A new dialog will appear confirming this update. Click [Yes] to continue.
5. The eUpdate will download and install the update. Once done the Print Manager Plus Administrator will automatically be reloaded.
6. Once the Administrator has been updated, launch eUpdate again to update the Service portion of Print Manager Plus.
7. Once eUpdate has Reloaded, select the Server or Servers that you wish to update the service of and then click [Update Selected Servers].
8. You will be warned that this may trigger a reboot, if the service portion requires an update, it will automatically update the other selected servers for ease of Administration. Choose [Yes] to continue.
9. Once the update is done, the eUpdate will show both the Administrator and Server on the most recent version. It may take a moment for this to refresh.
Maintenance for Print Manager Plus 2010
Updating Print Manager Plus requires a current maintenance contract. When purchasing the software, maintenance is included for the first year, after that additional years of maintenance can be purchased for a fraction of the initial purchase cost. Maintenance includes phone and email support, as well as free updates and upgrades for the software. If you attempt to run eUpdate and your maintenance contract is expired, the following messages will appear.
Renewing Maintenance: If your maintenance has expired, or if you need to check the current status of your maintenance contract, you can do so by contacting maintenance@printmanager.com.
Troubleshooting the eUpdate System
There are a variety of reasons the eUpdate may not work. Below are the most common reasons and their solutions.
1. License Key: Print Manager Plus uses your license key to check on your maintenance status. This key must be entered on the Print Servers tab all capitals with the dashes. See below example.
In Example: GCSVV-U9SDJ-GRD9V-S7C2P
2. Service Errors: In some cases, you may get the error message: [The service is not running or of an older version]. This error can sometimes occurs even when the service is running version 2010, if it can not be contacted for some reason. To resolve this issue try stopping and restarting the Print Manager Plus service.
3. Current Version: The eUpdate system for Print Manager Plus works in version 2008 (7.0) and later. If you are running version 6.0 or earlier, you will need to acquire a manual update to version 2008 first. This can be obtained from worldwidesupport@printmanager.com
4. Firewall Issues: Network firewalls can prevent the eUpdate from downloading or checking for updates. If you notice the following message in your update status column then a firewall is the reason you are unable to update.
Error: "< !DOCTYP HTML PUBLIC"-//W3C..."
To allow the eUpdates the server and software needs to be allowed to contact "www.softwareshelf.com" on Port 80.