Symptoms:
When running the full silent mode, the msi installation never completes.
The Print Manager Plus server reports error 1920 during installation upon starting.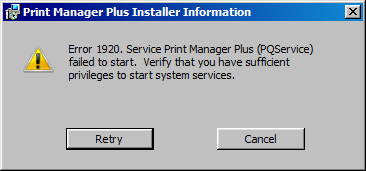 Applies To:
This article applies to Print Manager Plus 2010 Enterprise Edition on Server 2008 Core Editions Only. Current version build at time of last article update: 8.0.137.191
Causes & Solutions:

1. The Print Server Role is Not Installed:
The Print Manager Plus service requires the Print Spooler be present before it can be installed. If the Server 2008 Core edition does not have the print server role enabled, this service will not present causing the installation to fail.
Solution: Install the Print Server Role
Server Core Installation Option Getting Started Guide:
http://technet.microsoft.com/en-us/library/cc753802(WS.10).aspx
Non-Resolution:
If this did not resolve the issue, then it is more likely that it is a general MSI install issue, and is not specifically related to this Core Edition issue. Check for more general FAQs, or contact support on troubleshooting the Service Only MSI Install of Print Manager Plus.