The cost per a page is the amount that Print Manager Plus charges per each page printed. To set the amount charged per a page follow the steps below
Open the Print Manager Plus and browse to the [Printers] tab locate the print queue you would like to change the cost on right-click and select [Edit]
A new dialog will appear with a variety of settings, select [Cost Settings] on the left and you will see three options:
1) Use a Cost Profile - This options allow you to setup a cost profile that will be used for the selected print queue.

2) Standard Cost Options - This option allow you to create base cost for B/W, Color and cost by page size.

3) Advanced Cost Options - This option provides more advanced settings that include B/W, Color, Page Size, Linear Length, Area, Duplex and Economode Discounts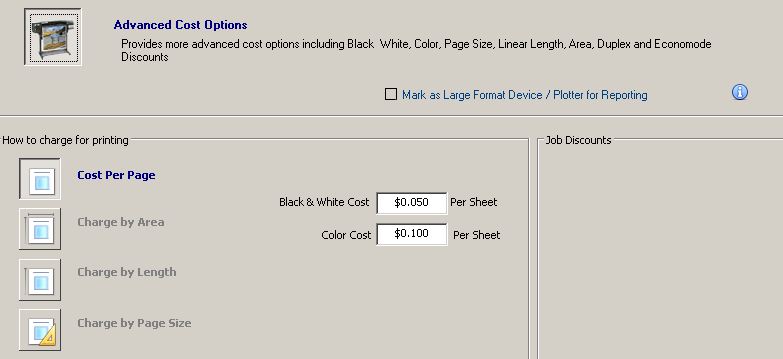 For this example we will setup a Cost Profile for the selected print queue.
Selecting [Use a Cost Profile] you will see that there is a default cost profile that indicates .05 for B/W and .10 for Color.
*Note: you can create or edit your cost profiles by clicking [Edit] or [New] to the right of the cost profile drop-down.

Configuring Advanced Cost Options
Print Manager Plus provides advanced cost per a sheet for plotters, for cases where a different cost is required based on the page size being printed. The below outlines setting this up.


1. Under the Print Cost Settings select [Advanced Cost Options]
2. Under How to charge for printing select the method you need and input the amounts that you would like to charge for prints from this device.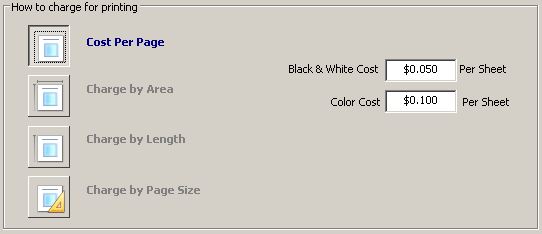 3. Once you have made the changes that you would like click [OK] at the bottom of the window to apply the setting.