Introduction:
This article will take you through the steps to create multiple Balances / Quotas that can be assigned to specific print queues for limiting the number of prints or types of prints that a user can send to a specific queue.
This can be done by following the steps below:
Cost Profile and Balances:
As a first step in configuring this functionality, you will want to create Cost Profiles and Balances that you will then use to assign to the specific queues that you would like to limit
Cost Profile Creation
1. Within Print Manager Plus, select the Printer Tab click Add Profile, Create the profile name and click OK.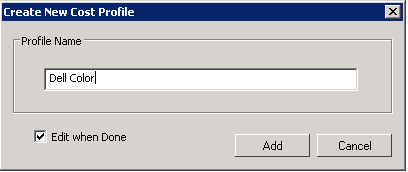 Adding Balances
2. Within the Cost Profiles Properties click on Balances which will take you to Advanced Settings

Here you will create Balances for the profiles that you created above to deduct again.
( Note: Here you can also change the balance type from currency to pages if needed).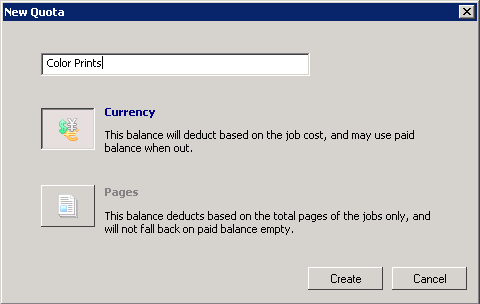 Now that you have created the Cost Profiles and Balances for those profiles, you will now need to assign the created balances to the cost profiles.
Assigning a Balance to a Cost Profile
3. From the Printers Tab right click and Edit one of your created cost profiles.
Towards the bottom of the Cost Profile Properties window uncheck the Use Default Quota box and then click the drop-down select the quota that you would like the assigned printer to deduct from.

Now that you have paired the quota with a cost profile, you now need to assign that cost profile to a print queue
4. From the Printers tab select the print queue that you would like to assign a new cost profile to right click and edit the queue properties
In the Edit Properties window use the dropdown under Use a Cost Profile and select the cost profile that you want to assign to the selected Print Queue, click ok to save this configuration.


Once you have completed the above steps you will now be able to assign quotas for your users based on the balances that you created, while will allow you to set a specific number of prints per device per student.
For steps on how to create a quota schedule please click HERE.
if you have completed the above steps and are still seeing an issue please click HERE to submit a request for support.